Types of Tooth Crowns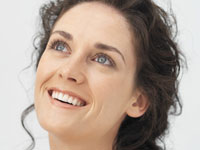 Most dentists will agree that the tooth crown is at the heart of general dentistry. They've all studied dental crowns in dental school, and some have done their best work replacing a missing tooth and saving the rest.
Research has given them the wherewithal to achieve virtually ideal restorations. They are natural looking, comfortable and stable in the moist environment of the mouth. Cosmetic dentistry professionals are better equipped now more than ever to build strong, long-lasting and cosmetically superior dental crowns.
What is a dental crown?
A crown (or cap) is a restoration placed over broken teeth or a cracked tooth that cannot sustain a conventional filling. By covering the biting surfaces and sides of the tooth, a dental crown strengthens the damaged tooth by binding together the remaining structures. There are basically three kinds of full-crown restorations that can be placed by your cosmetic dentist, each with pros and cons, depending on your situation.
A gold crown or metal alloy crowns have the longest track record for durability, but some people object to the look of metal.
A full porcelain crown - and its new ceramic cousin - looks wonderful and fits well; however, porcelain crowns are usually best on front teeth where stress is not so great.
Porcelain-fused-to-metal dental crowns are our loyal work-horses for single-tooth restoration - they're very strong.
There are elements of finesse in the creation of any crown. The fit is the thing. The teeth must be prepared with opposing teeth in mind so a good bite won't go bad after the crown is placed. The fit must accommodate adjacent teeth, too. And the "margin," the part of the crown nearest the gum, must fit smoothly to protect the health of gum tissue.
And all this effort is to one end: to save a tooth.
When is a dental crown called for?
A tooth that has been filled more than once cracks, breaks off, or falls victim to secondary caries - a cavity under or around a filling.
You've had root canal treatment on a molar, and it's prone to brittleness.
A tooth has suffered severe enamel wear.
The high school hockey star takes a blow in the mouth, and an otherwise sound tooth is broken.
You need an anchor for your new dental bridge.
Schedule a Checkup with Your Cosmetic Dentist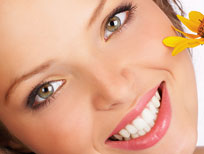 Maybe the reason we find an eight-year-old's gapped teeth smile so adorable is...we know it's not permanent. Soon the grown-up teeth will be poking through, clean and new. All part of the mouth's natural evolution.
It's not often that nature gives us a second chance, but when it comes to teeth it does just that. For many children it can be a wake-up call to start taking dental hygiene seriously. As the old saying goes, "God gives you two sets of teeth, but you have to buy the third."
It may be time though to change that outdated piece of wisdom to: "Teeth are like friends...ignore them and their needs and they'll go away. Be kind to them and they'll stick with you forever."
That's why regular hygiene appointments and a gum disease examination are so important. Barring injury, there's simply no reason why most of us should be missing teeth as we grow older. Call it a "10,000 smile checkup," insuring all your parts are in good working order.
Once your cosmetic dentist knows that your teeth are healthy and the gums are sound, he or she can do a little restorative dentistry to evolve your smile to an even higher level. Things like dental bonding to close the gaps…or invisible dental crowns or veneers for front teeth…even teeth bleaching for a truly dazzling and beautiful smile.
Give your cosmetic dentistry professional a call. He or she can help you see to it that your mouth does the job it was intended to for a lifetime. And look drop-dead sensational at the same time!