Cosmetic Tooth Bonding Fixes Damaged Teeth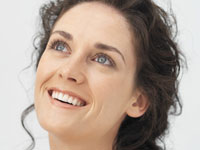 Cosmetic dentistry is everywhere these days.
With new materials, especially dental "superglues," we're reshaping teeth, filling gaps between teeth, restoring broken teeth, replacing missing teeth, placing lighter braces. The technique is called dental bonding, and the aesthetic result is wonderful.
But it's not forever.
The American Dental Association puts the life of tooth bonding materials at about five years. This may be a conservative estimate, but there will come a time when a bond needs attention.
In general, if you treat a bonded tooth like your other teeth, you'll keep your dental restoration intact longer. Lax home care habits or the wrong foods can hasten wear and tear.
So go easy. If your tooth restoration is brand new, or years old and still flawless, keep smiling. With care, we've seen dental bonding last a long, long time.
Here are some reminders to help lengthen the life of your dental restoration.
Expect to come in more often just after your tooth restoration is placed. The edges of bonded restorations need a once-over after a few months to verify a smooth fit. And we'll check to make sure there is no gum irritation, too.
Certain unforgiving foods can threaten any dental restoration. Watch nuts, hard candies, some fresh fruits - a bond could crack. We don't see it often, but with heavy-handed treatment, veneers can pop right off - not a real confidence-builder in a crowd.
Nail-biting and ice-chewing are out.
Use a non-abrasive toothpaste and a soft brush.
Coffee, tea, colas, and cigarettes, of course, are not your restoration's best friends. They stain, among other unsavory things.
A Beautiful Smile and Your Cosmetic Dentist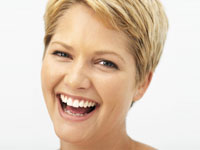 Everyone knows Mona Lisa's smile, but who knows what she meant by it?
Why do we smile?
Psychologists tell us that, in our ancient past, a smile was a gesture of appeasement. They also believe that, to modern man, a smile signals many different messages - recognition, sympathy, apology, lessening of tension, confusion, embarrassment, doubt, joy, delight. A smile, social observers agree, is a mask behind which we can hide our true feelings.
This mask is a complex gesture. First the corners of the lips curl upward. Then, as the smile grows, front teeth are exposed. In our culture we consider people with glistening white teeth and a beautiful smile to be "good" people. Bad teeth, on the other hand, tend to distort the smile "message" because, curiously, we subconsciously judge others by their teeth.
The Eyes Don't Have It - The Teeth Do!
Some people believe that teeth are a more important element of beauty than the eyes.
Have you noticed that, in the movies and on TV, the "good guys" never have broken teeth or a missing tooth? The "bad guys" almost always do.
What Does Cosmetic Dentistry Have to Do With Facial Beauty? Everything!
Nearly all dentistry affects our appearance, and our appearance affects our sense of personal worth. Among the many things that a cosmetic dentist can do to give you a beautiful smile are:
Teeth bleaching to remove stains caused by plaque, coffee, cigarettes
Teeth Whitening
Covering worn teeth (ground down by age or deformity or chipping) through application of dental crowns, dental bridges, or other cosmetic dental techniques
Teeth Straightening (orthodontics) for adults as well as children, to improve appearance and to provide better chewing surfaces
Shortening a long face, realigning a protruding jaw, correcting a cleft lip through dental surgery
So … cosmetic dentists are scientists, clinicians, artists and image-makers!