Cosmetic Dentist: Do Teeth Bleaching Before Dental Crowns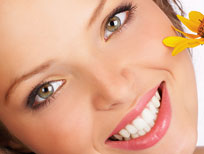 If you require a dental crown to be placed, it is a good idea to talk to your cosmetic dentist about how you feel about the color of your existing teeth before beginning the process. If you like the color of your teeth, your cosmetic dentist will then find a color that matches the crowns.
On the other hand, teeth bleaching may be an option for you. If you feel you would like to whiten or lighten your teeth, it is a good idea to communicate this to your cosmetic dentist beforehand. Once the final restorations are made, it will not be possible to change their color without redoing them.
At-Home Teeth Bleaching
If you desire whiter teeth before the cosmetic crowns are placed, the best way to achieve this is to talk to your cosmetic dentist about at-home teeth bleaching. With this procedure, custom-fitted plastic trays will be made for your teeth and you will be given some small tubes of teeth bleaching material.
Your cosmetic dentist will show you how to place a small amount of teeth bleaching material in the tray and then place the tray in your mouth. If any excess material squirts out of the tray onto your gums, you will want to remove it with your finger or a toothbrush.
The tray is then worn for one to two hours in the evening, depending on the type of teeth bleaching material. The biggest advantage of this method of teeth bleaching as compared with procedures that are done in your cosmetic dentist's office is that you are the one that can control how white you want your teeth to be.
Since you are the one in control, you can stop the teeth bleaching whenever you feel you have achieved the desired color. The typical teeth bleaching time is one and one-half to two weeks, but it may be longer.
Sensitivity to Tooth Bleaching
You may experience that your teeth become sensitive to cold air or liquids during the teeth bleaching process. This is normal and will subside and finally go away when you stop the teeth bleaching.
There are a couple of things you can do to decrease this sensitivity if it arises during the teeth bleaching process. One is to only bleach every other night. By taking a break after each night of teeth bleaching, your teeth will not be as sensitive.
The other is to have your cosmetic dentist prescribe you a fluoride gel that you can place in your custom teeth bleaching trays every other evening. The fluoride acts to decrease the sensitivity by coating or sealing the tooth surface and it will not affect the color of your teeth. This is the most reliable way to decrease sensitivity while you bleach.
Once you get your teeth to the desired color , your cosmetic dentist will have you wait about three to four weeks before taking a color match of your teeth in order to make the final restoration. During this time, the color of your teeth is stabilizing.
Once the Restorations Are Placed, What Can You Expect?
Teeth bleaching is very predictable, but the results will not last forever. Since the restorations were placed when your teeth were at their whitest, you will most likely find that in one and one-half to two years, the restorations may begin to appear lighter than your natural teeth.
This result is to be expected. It is not caused by a change in color of the restorations, but rather by your own teeth getting darker. At this point, all that is required is to, once again, bleach your natural teeth until the color is evened out. Usually, this only requires teeth bleaching a couple of times.
After the color is evened out, you can then expect to have the color stability last for another one and one-half to two years. On the other hand, if no restorations were placed by your cosmetic dentist after your teeth bleaching, you will most likely not notice the teeth changing color because there is no reference to help judge this change.
By Greggory Kinzer, DDS, MSD
Restorative Dentistry for Natural-Looking Tooth Restoration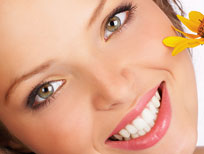 In dental materials, composite resins are just about the most exciting thing to come down the pike in a long while. Resins may well symbolize the value of long-term, persistent research. From humble beginnings in 1956, the search for an effective adhesive dental filling has culminated in resin materials - versatile, relatively strong, with cosmetic superiority. Quite a return from plastic mixed with glass beads and such.
What's amazing about filling a tooth with resin (vs. gold or silver amalgams) is the nature of the bond to the tooth. The enamel is first treated with a mild acid to create microscopic pores on the surface of the tooth. Once the resin is applied, a mechanical - not chemical - bond is formed. Sort of like dental velcro. Then the resin can be sculpted, tinted, and polished to look like the real thing.
So what do composite resins mean for cosmetic dentist patients? Let's count the ways.
Pit and fissure sealants
The best bargain in cosmetic dentistry, and proven cavity fighters to boot, are pit and fissure sealants. Sealants are a composite resin painted on back teeth, where tooth decay typically occurs in children. One sealant session, with check-ups now and then, provides cavity prevention - indefinitely.
Tooth bonding
Dental bonding is an umbrella term for placing composite resin restorations, from tooth-colored inlays to reshaping chipped teeth. For the right candidate, bonding is a comfortable, quick alternative to dental crowns, and a real boon to simple cosmetic dental care procedures. Less of your healthy tooth is removed, so it's essentially a conservative tooth restoration procedure.
Protecting exposed roots
In adults, a receding gum can expose the roots of teeth, an uncomfortable situation at best. Along with other adhesives, we apply resins directly to the root surface to help prevent tooth decay, and make the teeth less sensitive to hot and cold.
Orthodontic appliances
Teeth straightening just became easier. We can use resins to bond braces directly to teeth, so heavy bands around teeth, in some cases, can be dispensed with. The new invisible braces, along with bonding, make adult orthodontics an appealing alternative to crooked teeth.
Move over, amalgam
Well, not really. Composite resins may never replace old standby filling materials, especially on back teeth. But resins have taken their rightful place in cosmetic dentistry, complimenting metal amalgams, and they can only get better.