I Had a Root Canal and Now My Tooth Is Dark. How Can I Get My Bright Smile Back?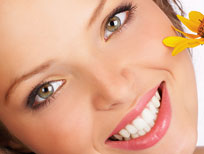 It is not uncommon for teeth to turn darker in color either before or after being treated with a root canal. Deposition of pigment within the tooth from the nerve, usually due to major trauma, can cause the tooth to turn either gray or brown. What happens is a reactive process causing calcification within the tooth can cause it to turn yellow. The treatment to regain your bright smile now depends on both the type and the severity of the color change.
Treatment Options
Internal Dental Bleaching
By far the easiest way to correct the color is by dental bleaching the tooth. The procedure for this is different than for conventional dental bleaching, where you are whitening all of your teeth.
The technique involves your dentist or endodontist placing a small amount of extremely strong dental bleaching material inside the tooth where the nerve was. It is placed through the small hole in your tooth through which the root canal was done. A temporary filling is then placed to seal in the tooth whitening material for three to four days.
The tooth will start to lighten almost immediately, and you will often see improvement on the night that it was placed. You will have to return to your dentist to have the dental bleaching material replaced because its effectiveness decreases over time. It usually takes two to three applications to regain your bright smile.
Once the tooth is lightened, a permanent filling will be placed. This procedure is very stable and it works best for teeth that have turned brown or gray. Even though the tooth color is lightened, it is difficult to obtain a perfect match with your other teeth.
Bright Smiles with Dental Veneers and Crowns
Another treatment option is to use a restoration to cover the tooth to mask the color change. The type of restoration needed will vary depending on how dark the tooth is and how much lighter it needs to be.
For teeth that are slightly to moderately dark, the best restoration is a porcelain veneer. Porcelain veneers are thin restorations that, when bonded to the tooth, can change both its shape and color.
Because of the thinness of the porcelain veneers, the color may show through the veneer if the tooth is too dark. Therefore, they are most successful for treating color changes that are not severe. For extremely dark teeth, a crown may be indicated to help mask the color.
It is important to note that although a crown or veneer may mask the darkness from the tooth, there may still be some darkness from the root that can show slightly through the gum tissue. The effect of this will vary depending on how dark the tooth is and the type of gum tissue.
A darker tooth with thinner gum tissue is more likely to have the dark color show through than a lighter tooth with thicker gum tissue. This darkness may not be a factor if the lip does not move up high enough to show the area at the gum line when smiling. If it does show and is an issue, the treatment will most likely need to include dental bleaching of the tooth, as previously discussed, with or without a restoration.
By Greggory Kinzer, DDS, MSD
Visit a Cosmetic Dentist - Raise Your Self-Esteem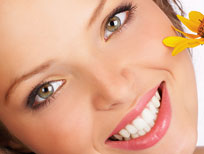 What can cosmetic dental work do for your self-esteem that all the pots of cream and eyeliner on Madison Avenue can't? While we agree with the ad men that esthetics motivate how people see us, value us, and respond to us, true natural beauty has to do with good health, not technique with a make-up brush. When you admire the dazzling smile of that Revlon model, will you buy the lipstick - or seek the restorative dentistry that perfected the smile? Dentistry thee smile to health and symmetry. Cosmetics? Sure. But call on cosmetic dentistry for a beautiful smile that won't wash off.
Vertical dimension is a key element in a pretty smile. It is the height between two points - one on the upper jaw, one on the lower - when the bite is closed. When vertical dimension is askew, facial features can appear "collapsed." A good denture maintains esthetic vertical dimension, likewise muscle tone and youthful looks.
Sex a factor in dentistry? So-called masculine front teeth are boxier, more prominent, with "bold" cuspids, slightly rotated. A "feminine" smile has more delicate, rounder teeth, and open incisal embrasures, spaces, between the curved surfaces of adjoining teeth. This norm is changing, though. Women are seeking a "sportier" look.
The "smile line" is used by some believers as a guide to cosmetic dental harmony. The theory goes that the curve of the bottom lip should reflect the curve of the upper front teeth. Whether your six front teeth are natural, or part of a denture or dental bridge, restorative dentistry can help bring out the best in your smile line.
An early orthodontics evaluation assures healthy growth into a sound, balanced bite. The position of the jaw will determine profile. For jaw abnormalities, orthognathic surgery brings nothing short of miraculous results.
Wear. As we age, our front teeth naturally wear down to an even line. Rounding edges with tooth bonding or dental veneers will achieve a younger aspect.
Beautiful gums are intrinsic to a beautiful smile. Coral in color, firm-healthy gums are, well, sexy.
Euclid's concept of "golden proportion" is followed by many cosmetic dentistry professionals. The rule holds that the most esthetically pleasing smile has certain proportions. Each tooth in this "perfect" smile is about 60% the size of the tooth just in front of it.
Young teeth have more texture - stippling, concavity - than older teeth worn smooth with age.
Light. The way teeth reflect light is another factor in pleasing the eye. Dental crowns, bridgework, dentures and other cosmetic dental work can be tinted to capture and reflect light just like natural teeth. Michelangelo, move over.
A low lip line - one that hides tooth and gum in a grin - can be compensated for by veneering. The front teeth are lengthened to regain "ideal" form.