How Do I Care For My Perfect Teeth After Visiting a Cosmetic Dentist?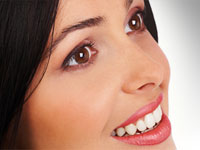 Have you had esthetic enhancements to your teeth or just naturally have great looking, perfect teeth? Here are some dentistry tips to maintain your picture perfect smile.
n order to maintain a healthy smile, you have to know what types of things are damaging to the teeth. Identifying and eliminating bad oral habits is the key to retaining a great smile for many years. Sometimes we are not aware that we are harming the health of our teeth. Do you:
Grind your teeth?
Casually bite your fingernails or a pen?
Crunch ice?
Have a diet high in sugar (such as soda, chewing gum and candy)?
Drink coffee, red wine and tea? Smoke or chew tobacco?
Force your tongue against your upper teeth?
If you answered yes to any of these questions, you are in danger of causing a detrimental effect on your new perfect teeth and smile.
How Detrimental Are the Effects? No one can predict the exact effects that the habit will have on your newly perfect teeth, however, the longer the duration of the habit, the greater negative effect it will have on the longevity of your smile enhancements.
How Can I Eliminate My Bad Oral Habits and Protect My Perfect Teeth?
The first step to eliminating a bad habit is to identify and acknowledge that you have one. If your habit is crunching ice, you must alter or eliminate it from your day-to-day routine.
Other habits are harder to break like grinding your teeth. Grinding the teeth is generally an involuntary action and usually occurs when asleep. Because the habit is difficult to break, a plastic night guard is the best solution to prevent excessive wear of your teeth.
A night guard is a clear plastic mouthpiece that is custom-fitted to snap over your teeth, much like an athletic mouth guard. The night guard is designed so your teeth grind on the plastic, not your teeth. The night guard will wear out, but your teeth will not.
Do not neglect your teeth, especially if you have had esthetic enhancements. Your enhancements will not last forever, so in order to preserve your perfect teeth, have regular dental check-ups and do your best to eliminate bad oral habits.
By Benjamin O. Watkins, III, DDS
Today's Restorative Dentistry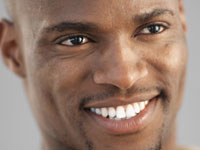 There's a bright new trend in cosmetic dental offices these days: more people are scheduling appointments because they want to, not because they have to.
In the past 15 years we've seen the development of materials and procedures we could only dream about before. And if you know someone who hasn't been to the dentist in a while, tell them they'll be pleasantly surprised by what they find.
Pain control
Dental medicine has come a long way from the days when whiskey was the anesthetic of choice. Today's dentistry is virtually painless. Technology, stress control techniques, and some very sophisticated approaches to anesthesia have all contributed to painless treatment - from cleaning to cavity preparation to root canal treatment.
Cosmetic dentistry
A new discipline has grown up around restorative dentistry procedures. But, does it show in a smile?
Tooth whitening is a simple, inexpensive way to lighten stains and discolorations on teeth without altering the natural structure.
Dental bonding has come of age with the refinement of bonding resins. There's no limit to the cosmetic "magic' we can work on a smile - close gaps, reshape teeth, lengthen here, brighten there.
Tooth-colored filling materials are getting prettier - and stronger - every day
Dental Implants - Though people are keeping their teeth longer and longer, part of the older population still has to deal with missing teeth. For those denture wearers who've always hoped for something better, dental implants can be a kind of dental rebirth.
The future of dentistry looms exciting, too. Cosmetic laser dentistry, fiber optics, computer-aided design - all are finding applications in dentistry. Cosmetic dentistry - it's a whole new ball game.