Cosmetic Dentistry for a Perfect Smile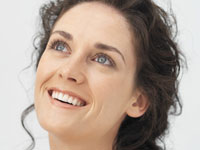 In most cosmetic dentistry practices, good health and sound oral function are their primary goals. But these days, both can be achieved with a third factor in mind, good looks.
Good looks are all around us. In consumer magazines, TV, media, politics, and business. Both men and women are flashing bright, near perfect smiles. It's a pleasure to see. We're not all born that way, and they probably weren't either. Dental makeovers have contributed to a large part of the self-esteem of models, movie stars, and recently, the grocery clerk or the grandmother next door, who seek cosmetic dental care.
Surprisingly, most tooth restoration procedures are fairly conservative. That is, removal of healthy enamel is kept to a minimum, or dispensed with altogether. Teeth bleaching, tooth bonding and contouring are quick, easy, and fairly inexpensive. Porcelain veneers lend new form and youthfulness to front teeth. Tooth-colored fillings can replace discolored amalgams. A new denture can restore a more youthful appearance. The choices are yours.
Notice the people you know who are proud of their teeth. They smile more often. Great teeth build self-confidence. Most people respond more readily to an attractive smile in a very positive way. The psychology is simple, the impact great.
We are lucky to have new materials and techniques that make a beautiful smile within everyone's reach. Take advantage of cosmetic dentistry, for yourself and the people around you.
Give your cosmetic dentist a call today to find out how your smile can benefit from today's technical innovations.
Restorative Dentistry for Natural-Looking Tooth Restoration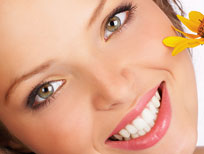 In dental materials, composite resins are just about the most exciting thing to come down the pike in a long while. Resins may well symbolize the value of long-term, persistent research. From humble beginnings in 1956, the search for an effective adhesive dental filling has culminated in resin materials - versatile, relatively strong, with cosmetic superiority. Quite a return from plastic mixed with glass beads and such.
What's amazing about filling a tooth with resin (vs. gold or silver amalgams) is the nature of the bond to the tooth. The enamel is first treated with a mild acid to create microscopic pores on the surface of the tooth. Once the resin is applied, a mechanical - not chemical - bond is formed. Sort of like dental velcro. Then the resin can be sculpted, tinted, and polished to look like the real thing.
So what do composite resins mean for cosmetic dentist patients? Let's count the ways.
Pit and fissure sealants
The best bargain in cosmetic dentistry, and proven cavity fighters to boot, are pit and fissure sealants. Sealants are a composite resin painted on back teeth, where tooth decay typically occurs in children. One sealant session, with check-ups now and then, provides cavity prevention - indefinitely.
Tooth bonding
Dental bonding is an umbrella term for placing composite resin restorations, from tooth-colored inlays to reshaping chipped teeth. For the right candidate, bonding is a comfortable, quick alternative to dental crowns, and a real boon to simple cosmetic dental care procedures. Less of your healthy tooth is removed, so it's essentially a conservative tooth restoration procedure.
Protecting exposed roots
In adults, a receding gum can expose the roots of teeth, an uncomfortable situation at best. Along with other adhesives, we apply resins directly to the root surface to help prevent tooth decay, and make the teeth less sensitive to hot and cold.
Orthodontic appliances
Teeth straightening just became easier. We can use resins to bond braces directly to teeth, so heavy bands around teeth, in some cases, can be dispensed with. The new invisible braces, along with bonding, make adult orthodontics an appealing alternative to crooked teeth.
Move over, amalgam
Well, not really. Composite resins may never replace old standby filling materials, especially on back teeth. But resins have taken their rightful place in cosmetic dentistry, complimenting metal amalgams, and they can only get better.