Considering Porcelain Veneers?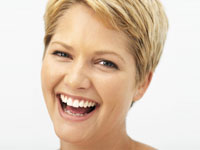 Maybe you've thought about cosmetic dental work - but felt a little vain to consider it.
Or the appearance of your teeth never bothered you much, because your dental health is pretty good.
But fixing a small functional problem can sometimes yield wonderful, unanticipated dividends. Mary, for instance, had a few dental imperfections most of us could live with. But she was hampered from time to time by a lispy "s" sound.
Mary had gapped teeth, a diastema, which caused a slight but noticeable speech defect. She also showed evidence of life in the fast lane, too: teeth worn down, probably from nervous clenching of the jaw muscles or grinding teeth.
In Mary's case - and every case is different - porcelain veneers saved the day. Her cosmetic dentist began with a functional and esthetic evaluation to determine what shape and contour would best solve Mary's diastema problem. More tooth length was proposed, to give her a more youthful, proportioned appearance, too.
Impressions were taken, and sent off to the lab for fabrication. On the next visit, her teeth were cleaned and etched chemically, the dental veneers were cemented into place, and "cured" with a special light to seal them.
Mary's speech problem evaporated. Dentistry fixed that. But cosmetic dentistry did more than perfect her speech.
WHEN FUNCTION = BEAUTY
Like an acrylic fingernail, veneers cover the front surface of the teeth.
Porcelain dental veneers
are strong and, by the way, look great.
As an architect of more that 60 years, I have learned that only the beautiful is practical. And universally, anything that is truly practical, functional, and useful is beautiful.
-Frank Lloyd Wright
How Do I Care For My Perfect Teeth After Visiting a Cosmetic Dentist?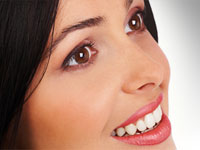 Have you had esthetic enhancements to your teeth or just naturally have great looking, perfect teeth? Here are some dentistry tips to maintain your picture perfect smile.
n order to maintain a healthy smile, you have to know what types of things are damaging to the teeth. Identifying and eliminating bad oral habits is the key to retaining a great smile for many years. Sometimes we are not aware that we are harming the health of our teeth. Do you:
Grind your teeth?
Casually bite your fingernails or a pen?
Crunch ice?
Have a diet high in sugar (such as soda, chewing gum and candy)?
Drink coffee, red wine and tea? Smoke or chew tobacco?
Force your tongue against your upper teeth?
If you answered yes to any of these questions, you are in danger of causing a detrimental effect on your new perfect teeth and smile.
How Detrimental Are the Effects? No one can predict the exact effects that the habit will have on your newly perfect teeth, however, the longer the duration of the habit, the greater negative effect it will have on the longevity of your smile enhancements.
How Can I Eliminate My Bad Oral Habits and Protect My Perfect Teeth?
The first step to eliminating a bad habit is to identify and acknowledge that you have one. If your habit is crunching ice, you must alter or eliminate it from your day-to-day routine.
Other habits are harder to break like grinding your teeth. Grinding the teeth is generally an involuntary action and usually occurs when asleep. Because the habit is difficult to break, a plastic night guard is the best solution to prevent excessive wear of your teeth.
A night guard is a clear plastic mouthpiece that is custom-fitted to snap over your teeth, much like an athletic mouth guard. The night guard is designed so your teeth grind on the plastic, not your teeth. The night guard will wear out, but your teeth will not.
Do not neglect your teeth, especially if you have had esthetic enhancements. Your enhancements will not last forever, so in order to preserve your perfect teeth, have regular dental check-ups and do your best to eliminate bad oral habits.
By Benjamin O. Watkins, III, DDS