Benefits of Cosmetic Dental Care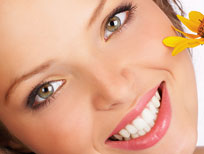 Do your looks affect the way people treat you? Positive self-esteem - how we feel about ourselves - is very important to a healthy personality, to happiness, to the development of a positive attitude about life, and to achievement in the direction we choose.
It is well documented that people with a positive "feeling" about themselves do better in school, in business, and have closer, more meaningful relationships.
One measure of self-esteem is how you feel about your physical appearance; or, more importantly, how you feel you look to others. The complexion, teeth, and nose, in that order, are the highest "rated" facial features.
Self-image begins to develop about age four or five. At that age, identity influences other developing traits: social skills, verbal skills, intellect, and the ability to define oneself as a successful person. In other words, at age four or five a child makes a giant step toward "I'm OK, I'm a worthwhile person," or, conversely, toward "I'm not OK." The results can often affect the remainder of that person's life.
Beauty is often more than skin deep, because the psychological damage to a person who feels unattractive can be devastating. Then there's the other side of the coin. Does how we look affect how others treat us?
Indeed. Studies have shown that good-looking people are given the benefit of the doubt over unattractive people. They're thought to be more intelligent, more likeable, higher achievers, honest, and braver than the unattractive. Even school teachers spend more time with attractive students!
Your mouth is important to your total psychological and physical well-being. Is it worth regular dental cleaning and cosmetic dental care? Is visiting your cosmetic dentist and having your broken teeth restored with beautiful dental crowns worth it? Is straightening crooked teeth with braces worth it? We think you'll probably agree, you and your family are definitely worth it!
Dental Crown Lengthening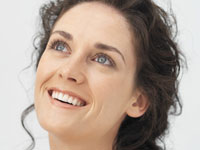 There are two reasons why individuals need a dental crown lengthening procedure: to properly restore a tooth or to make a "gummy smile" more attractive and cosmetic dentistry can help with both.
To properly restore a tooth, several millimeters of healthy tooth structure must be available above the crest of supporting bone. However, this often is not the case when teeth are fractured, severely decayed, or worn. If enough tooth structure is not available, and the restorations are placed too close to the bone, the body reacts by creating a chronic inflammatory reaction that can create red, swollen, and sensitive gums. The gums can bleed easily and even become painful. Eventually, the inflammatory reaction may lead to bone loss around the tooth. To prevent these problems and to properly restore the tooth, the patient should have a dental crown lengthening procedure before restorative treatment.
The gummy smile may be the result of gum tissue growing over teeth that are of proper size. Often times teeth that appear small are, in fact, normal-sized teeth that are hiding under excess gum tissue. Dental crown lengthening removes the excess gum tissue and establishes a more appealing gum line.
What to Expect from Dental Crown Lengthening
Dental crown lengthening is a surgical procedure in which gum and bone tissue is removed from the circumference of the tooth. It is done in the dentist's office with local anesthesia (lidocaine). One or several teeth can be treated at the same time. After carefully reshaping the gum and the bone to expose healthy tooth structure, stitches (sutures) are placed to aid in healing. The stitches are usually removed five to ten days after the surgery. Follow-up appointments are scheduled as necessary to evaluate healing and plaque control. The gums should be allowed to heal for six to eight weeks before making any new restorations. At that time, the gums are more stable and better esthetic results can be achieved.
Post-surgical discomfort can last a few days and is usually minimal. It can be easily managed with commonly available over-the-counter medications such as aspirin, acetaminophen, or ibuprofen. Patients can expect to follow their normal routine the day after surgery.
Benefits of Dental Crown Lengthening
Crown lengthening is recommended to properly restore a broken down tooth or to improve the esthetics of a gummy smile. If a general or cosmetic dentist does not frequently do surgeries, he or she may refer the individual to a periodontist who specializes in dental crown lengthening.
By Laura Minsk, DMD