Cosmetic Dentistry: A Smile Makeover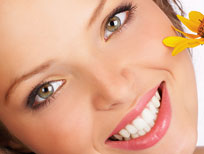 With recent advances in cosmetic dental technology, what was once considered impossible can now be performed routinely. We now have the means and the know-how to treat such conditions as discolored, crooked, and missing teeth - often in one or two visits to a cosmetic dentist, and often without discomfort.
Porcelain veneers have now become a standard part of cosmetic dentistry. These veneers are thin shells of porcelain bonded to the front teeth. Using porcelain veneers, we can change the shape, color and length of your teeth in only two visits - instant orthodontics!
Dental bonding is a widely used phrase that describes how tooth-colored fillings are placed. Using dental bonding, we can eliminate discolored areas, fill in gaps, and also build back areas of gum recession.
Composite fillings (tooth-colored fillings) can now be placed in the back molar areas when tooth decay is detected. These fillings can be used instead of amalgam (silver) fillings and are virtually invisible. Dentists have fun placing composite fillings and patients like them, too.
Teeth whitening is a great treatment for generalized yellow or stained teeth. With custom-fabricated tooth bleaching trays, the bleaching procedure can be done at home at your own convenience. The process generally takes about four to six weeks and the results are very impressive.
With the treatment options available today, it's possible to have the smile you've always wanted. Let your dentist know if you're interested in learning more about these advances in cosmetic dentistry.
Cosmetic Dentistry - What We Can Do That's New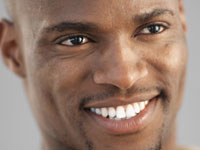 It used to be that only movie stars had those dazzling brighter-than-bright teeth. But in recent years many new cosmetic dental techniques have sprung up.
Nowadays, there's no reason you can't have a pretty smile that's the equivalent of Marilyn's (or Tom Cruise's). Here are just a few of the ways a cosmetic dentist can improve the looks and appeal of normal teeth:
Teeth Whitening - Just over the past two to three years new and safe professional teeth whitening systems have been developed. The teeth are covered with gauze and the tooth bleaching (carbamide peroxide) solution carefully applied. After three or four half-hour sessions, you can really see the difference. There are also home tooth whitening products with step-by-step procedures that enhance tooth color over several weeks.
Dental Bonding - Tooth bonding is a simple, single-visit cosmetic dentistry procedure that closes unsightly gapped teeth. We polish and prepare the teeth with a fine etching, then cover them with a composite overlay. There's usually no anesthetic needed, little or no drilling, and the teeth are protected as well as being cosmetically enhanced.
Dental Veneers - Today we have exciting new biomaterials to straighten crooked teeth, as well as brighten and close gaps. We call them porcelain laminate veneers. They're microscopically thin ceramic shells that cover problem teeth - and leave you with something to smile about!