Benefits of Cosmetic Dental Care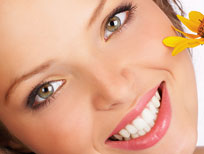 Do your looks affect the way people treat you? Positive self-esteem - how we feel about ourselves - is very important to a healthy personality, to happiness, to the development of a positive attitude about life, and to achievement in the direction we choose.
It is well documented that people with a positive "feeling" about themselves do better in school, in business, and have closer, more meaningful relationships.
One measure of self-esteem is how you feel about your physical appearance; or, more importantly, how you feel you look to others. The complexion, teeth, and nose, in that order, are the highest "rated" facial features.
Self-image begins to develop about age four or five. At that age, identity influences other developing traits: social skills, verbal skills, intellect, and the ability to define oneself as a successful person. In other words, at age four or five a child makes a giant step toward "I'm OK, I'm a worthwhile person," or, conversely, toward "I'm not OK." The results can often affect the remainder of that person's life.
Beauty is often more than skin deep, because the psychological damage to a person who feels unattractive can be devastating. Then there's the other side of the coin. Does how we look affect how others treat us?
Indeed. Studies have shown that good-looking people are given the benefit of the doubt over unattractive people. They're thought to be more intelligent, more likeable, higher achievers, honest, and braver than the unattractive. Even school teachers spend more time with attractive students!
Your mouth is important to your total psychological and physical well-being. Is it worth regular dental cleaning and cosmetic dental care? Is visiting your cosmetic dentist and having your broken teeth restored with beautiful dental crowns worth it? Is straightening crooked teeth with braces worth it? We think you'll probably agree, you and your family are definitely worth it!
Cosmetic Dentistry and Periodontal Procedures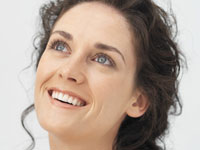 Not even the most beautiful teeth can look attractive if healthy and pleasing-looking gums do not surround them. That's because the gums frame the teeth like a picture frame frames a picture. To have a pleasing smile, the shape, color, and texture of the gums are just as important as that of the teeth they frame. Although tooth development, periodontal disease, trauma, or tooth loss can create esthetic gum deformities, modern periodontal procedures and cosmetic dentistry can give individuals a smile to smile about.
Common Cosmetic Gum Problems
Unhealthy Gums
As a result of periodontal disease, gums may appear red, swollen, and shiny. If an individual has gingivitis or periodontitis, the gums have to be periodontally treated prior to cosmetic dentistry procedures.
"Gummy Smile"
Teeth that appear too short may be normal-sized teeth hiding under too much gum. This can be the result of normal tooth development, or the use of certain medications that may cause gums to overgrow. Either way, a crown lengthening procedure can help reveal the normal tooth structure.
Gum Recession
If the teeth appear to be too long or if the root surfaces are exposed, it may be due to gum recession. Soft tissue grafting is very successful in correcting this problem.
Uneven Gum Margins
If the gum margins appear to be higher on some teeth and lower on others, this may be due to gum recession, altered eruption, or gum defects that resulted from tooth loss. The treatment of uneven gum margins may require crown lengthening, soft tissue grafting, ridge augmentation, or a combination of these procedures.
Gum Indentations
After a tooth is lost, the bone that encased it disintegrates and the gum around it may collapse, creating an indentation where the tooth used to be. Ridge augmentation procedures can help correct this problem.
Uneven Pigmentation
Changes in the color of the gums may be part of normal gum development, or the result of scarring. Soft tissue grafts can predictably correct this problem.
Spaces In Between the Teeth
Periodontal disease can result in spaces in between the teeth that may appear like black triangles. These spaces can be very difficult to treat. They can be made less unattractive by a combination of procedures that include orthodontics (braces), crowns (caps), and/or periodontal (gum) surgery. The best way to avoid these spaces is to treat periodontal disease in its early stages and avoid the need later for cosmetic dentistry.
Missing Teeth
One or more missing teeth can be predictably replaced with the aid of dental implants. Dental implants can look and feel like natural teeth.
Changes in the appearance of the gums can occur as a result of normal tooth development, periodontal disease, trauma, or tooth loss. By working with a restorative dentist who has expertise in cosmetic dental care and through the aid of modern periodontal techniques, individuals can design a smile that is both esthetic and youthful in appearance.
By Laura Minsk, DMD