Porcelain Veneers: a Popular Cosmetic Dentistry Option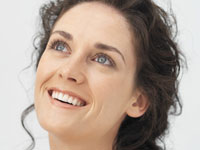 Modern cosmetic dentistry offers a wide selection of options for today's consumers for enhancing their smiles. As an alternative to crowns, chipped or stained teeth can be effectively restored with porcelain dental veneers -- ultra-thin, custom-designed ceramic shells bonded to the front teeth.
A porcelain dental veneers can change a tooth's color, size or shape. They're ideal for a number of tooth restoration purposes:
to mask severely stained teeth, such as from antibiotics;
those with discolored fillings on front teeth;
to repair crooked, chipped teeth;
or for those with poor spacing or worn enamel.
Porcelain dental veneers have a good longevity record, lasting many years when properly applied.
About the Porcelain Dental Veneers Procedure
Porcelain dental veneers treatment requires a four-step process:
First, patients consult with the cosmetic dentist regarding the specific nature of the desired changes. It is possible that you and your dentist may want to view the expected final result. This can be accomplished by performing a "wax up" of your teeth on some impressions (molds) of your mouth. You may also view the expected result via a computer enhancement program.
During the next appointment, your teeth will be prepared for the porcelain dental veneers. They'll be lightly buffed to remove about 0.5 mm from the tooth's surface (which may require local anesthesia).
Next, an impression will be made of your teeth for customizing the porcelain dental veneers. This will be sent to a dental lab and used for creating a perfect fit. A temporary dental veneer might be applied at this time, if appearance is of special concern.
When the porcelain dental veneers are ready, the dentist will carefully attach them, adjusting the shade if needed. Once the dental veneers are cemented, color alteration is no longer possible. Dental cement is applied between the porcelain dental veneers and tooth. A "light" touch finalizes the process with a beam of light activating the hardening of the cement.
Once teeth have been veneered, they will require periodic treatment and regular visits to the dentist. The result is a beautiful and long lasting smile you will love!
By Brian J. Gray, DDS, MAGD, FICO
Cosmetic Dentistry, Restorative Dentistry, The Dental Crown And The Gold Crown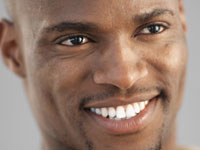 In restorative dentistry a dental crown, or caps for teeth, look and function just like natural teeth. Your cosmetic dentist may recommend a dental crown if your tooth has enough decay that it cannot hold a filling, or if your tooth is cracked or broken and in danger of cracking down into the root if left unattended. A dental crown covers your tooth completely. It fits snugly at the gum and protects what remains of the natural tooth.
Why Have A Dental Crown?
The dental crown serves two important functions. First, it restores the appearance of your teeth and your face. If your tooth is severely decayed or cracked, your cosmetic dentist will need to restore it prior to preparing a cap. Teeth also support the muscles in our faces, so anything less than a full tooth may affect the way you smile.
Second, a dental crown will be the same size and shape as the natural tooth. As a result, it will keep your jaw and bite aligned; it will also make sure that other teeth don't shift locations or take on a greater share of the work of biting and chewing.
What Is a Dental Crown Made of?
A dental crown is most often made of gold or porcelain. A dental crown also can be made of stainless steel, but those are often temporary and not designed for long-term wear.
A porcelain dental crown is usually built on a metal base, which fits snugly over the natural tooth. Your dentist will choose a porcelain that matches the color of your natural teeth. A porcelain dental crown is usually so carefully matched in color, it cannot be distinguished from your natural teeth. Many people choose porcelain dental crowns for the cosmetic appearance and the confidence it give them.
New materials are now available in cosmetic dentistry that allow your cosmetic dentist to use an "all-ceramic" dental crown in some cases. They have a beautiful life-like appearance and short-term studies support their success, with long-term trials ongoing.
A dental crown can be made of all gold. Some people prefer not to use a gold crown because it stands out from the other teeth in appearance. At the same time, if the gold crown is on a back molar, some people feel the cosmetic issue is not a big one. Your cosmetic dentist will discuss the types of materials available if a gold crown is recommended.
An Ounce of Prevention Is Still the Rule!
Once your dental crown is in place, make sure the area is brushed well and that you floss below the gum line. While the dental crown protects your remaining tooth from further decay, you must protect the base of the dental crown from bacterial growth and gum disease. Regular brushing and flossing as you would your natural teeth will ensure that your crown will be in place for years to come!
Your Gold Crown is not just royal jewelry for your mouth!
by Danine M. Fresch, DDS