Cosmetic Dentistry Combines Art and Science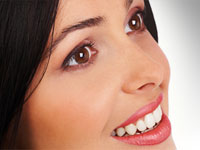 Cosmetic dentistry, these days, sometimes combines science with fine art. This requires a craftsman's skill to make sure the tooth restoration is as attractive as it is durable. After all, your smile is too valuable to be spoiled by unnatural-looking dental veneers.
The goal of a cosmetic dentist should be to provide you with an attractive, natural-appearing smile. You have a wide array of choices, and a good cosmetic dentistry professional should be happy to review the possibilities with you. For example, porcelain onlays and inlays can return structural integrity to a broken tooth, while leaving it looking as good as (or possibly better than) the original.
This is especially apparent if you now have metal fillings or a gold tooth. Metal and gold, after all, are not normal components of teeth. There's a huge difference between gold or metal combination fillings and porcelain dental crowns that reflect the translucence of natural teeth. Plus, porcelain restorations are now as strong, or stronger, than your own teeth. Ask your cosmetic dentist to take before-and-after photos so you can see the difference for yourself.
Admittedly, these more natural-appearing restorations are also a little more expensive. And many dental insurance plans may not cover all of the cost for cosmetic dental work. But in terms of your appearance (and the self-confidence it boosts), there's no comparison.
Porcelain Veneers: a Popular Cosmetic Dentistry Option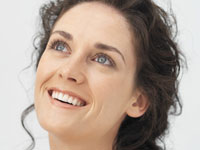 Modern cosmetic dentistry offers a wide selection of options for today's consumers for enhancing their smiles. As an alternative to crowns, chipped or stained teeth can be effectively restored with porcelain dental veneers -- ultra-thin, custom-designed ceramic shells bonded to the front teeth.
A porcelain dental veneers can change a tooth's color, size or shape. They're ideal for a number of tooth restoration purposes:
to mask severely stained teeth, such as from antibiotics;
those with discolored fillings on front teeth;
to repair crooked, chipped teeth;
or for those with poor spacing or worn enamel.
Porcelain dental veneers have a good longevity record, lasting many years when properly applied.
About the Porcelain Dental Veneers Procedure
Porcelain dental veneers treatment requires a four-step process:
First, patients consult with the cosmetic dentist regarding the specific nature of the desired changes. It is possible that you and your dentist may want to view the expected final result. This can be accomplished by performing a "wax up" of your teeth on some impressions (molds) of your mouth. You may also view the expected result via a computer enhancement program.
During the next appointment, your teeth will be prepared for the porcelain dental veneers. They'll be lightly buffed to remove about 0.5 mm from the tooth's surface (which may require local anesthesia).
Next, an impression will be made of your teeth for customizing the porcelain dental veneers. This will be sent to a dental lab and used for creating a perfect fit. A temporary dental veneer might be applied at this time, if appearance is of special concern.
When the porcelain dental veneers are ready, the dentist will carefully attach them, adjusting the shade if needed. Once the dental veneers are cemented, color alteration is no longer possible. Dental cement is applied between the porcelain dental veneers and tooth. A "light" touch finalizes the process with a beam of light activating the hardening of the cement.
Once teeth have been veneered, they will require periodic treatment and regular visits to the dentist. The result is a beautiful and long lasting smile you will love!
By Brian J. Gray, DDS, MAGD, FICO