Today's Restorative Dentistry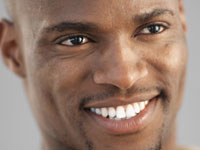 There's a bright new trend in cosmetic dental offices these days: more people are scheduling appointments because they want to, not because they have to.
In the past 15 years we've seen the development of materials and procedures we could only dream about before. And if you know someone who hasn't been to the dentist in a while, tell them they'll be pleasantly surprised by what they find.
Pain control
Dental medicine has come a long way from the days when whiskey was the anesthetic of choice. Today's dentistry is virtually painless. Technology, stress control techniques, and some very sophisticated approaches to anesthesia have all contributed to painless treatment - from cleaning to cavity preparation to root canal treatment.
Cosmetic dentistry
A new discipline has grown up around restorative dentistry procedures. But, does it show in a smile?
Tooth whitening is a simple, inexpensive way to lighten stains and discolorations on teeth without altering the natural structure.
Dental bonding has come of age with the refinement of bonding resins. There's no limit to the cosmetic "magic' we can work on a smile - close gaps, reshape teeth, lengthen here, brighten there.
Tooth-colored filling materials are getting prettier - and stronger - every day
Dental Implants - Though people are keeping their teeth longer and longer, part of the older population still has to deal with missing teeth. For those denture wearers who've always hoped for something better, dental implants can be a kind of dental rebirth.
The future of dentistry looms exciting, too. Cosmetic laser dentistry, fiber optics, computer-aided design - all are finding applications in dentistry. Cosmetic dentistry - it's a whole new ball game.
New Advancements in Cosmetic Dentistry Techniques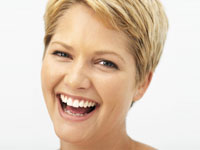 You'd be amazed (and probably delighted) by the options modern dentistry makes available for strong, natural-looking tooth restoration. Read on for more information about the exciting new cosmetic dental materials we have available now.
Traditionally, gold has been the "gold standard" of materials, and for good reason. Gold is highly biocompatible and is very long-wearing. A gold tooth, however, is not natural looking.
Today's a porcelain crowns or veneers don't mean choosing between strength and a lifelike appearance. You can opt for both. New all-porcelain crowns and veneers are available that look like natural teeth. They're durable enough to be used even for molars. This super-strong new generation porcelain is so resilient and tough it's being used in the manufacture of some tennis rackets!
Silver fillings (the kind that turn black) are a thing of the past. Instead, a composite resin filling can be used. And it's just as strong and durable as silver, and more closely reflects the color of the original tooth surface.
If you've had some cosmetic dentistry work done in the past, you'll be happy to know you're no longer locked into the choices of even five years ago. Modern dentistry is evolving rapidly, and fresher, more natural smiles, are the result.
Make sure your cosmetic dentist's office is interested in what's new for their patients. Ask them about other exciting new options (dental implants, teeth bleaching, onlays, inlays, etc.) they can offer you for your smile.