Cosmetic Dentistry Corrections: Bleaching, Bonding and Dental Veneers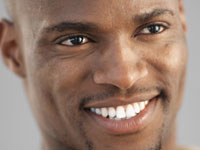 Maybe you've thought about cosmetic dentistry, but felt it was a little vain to consider it. Or the appearance of your teeth never bothered you much, because your dental health is pretty good.
Well, like it or not, "cosmetic" is more than skin deep. Most people form biases about others based on appearance. And, one of the critical factors in such judgments, is the teeth.
Because new cosmetic dental techniques give your dentist the means to fine-tune virtually anyone's teeth, most people need not go without the advantage of a white bright smile. Consider the options.
Teeth bleaching is a simple, inexpensive way to lighten stains and discoloration on certain teeth, front teeth are the more obvious candidates, without altering the natural structure of enamel. If you've had a root canal procedure, there may be some darkening. Some people suffer staining from medications, like tetracycline. And teeth naturally change as we age, or if we indulge in too much coffee, tea or smoking.
In any case, whiter teeth can be achieved with external or internal bleaching. The most common treatment involves cleaning the teeth thoroughly, applying a bleaching solution, and then curing it with a gentle heat source. The procedure takes just 30 to 45 minutes. After three to five sessions, you, and everyone else, will really notice the difference.
Cosmetic corrections for gaps, misshapen or chipped teeth are achieved with tooth bonding. New dental bonding materials can work wonders using a little art, and lots of science. Your cosmetic dentist can literally sculpt tooth form, or replace a gold crown with natural-colored restorations. The result is stronger than ever and makes a dramatic impact on your appearance.
Dental veneers are an option too, for teeth that need lengthening or reshaping. Veneers cover the front of a tooth entirely and work especially well where there is less stress on the teeth involved. Veneers are a durable, beautiful solution to dental imperfections.
Find A Cosmetic Dentist to Understand Dental Veneers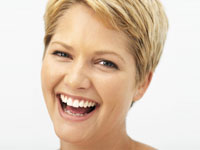 What Are Dental Veneers?
There are many cosmetic dentistry situations which arise that lend themselves to treatment with dental veneers by your cosmetic dentist. One indication is for restoring teeth with discoloration that have been unaffected by the more conventional teeth bleaching approaches. Some examples of this are teeth that have severe tetracycline (an antibiotic) staining or discoloration from a previous injury to the tooth.
Another major indication is for teeth that require significant changes in their shape or contour. By placing dental veneers, small or misshapen teeth can be built up to regain a more natural appearance, spaces between teeth can be closed by making the teeth wider and teeth that are too short can be lengthened.
Porcelain dental veneers or composite veneers are a very popular dental care treatment option for a variety of reasons. They are one of the most conservative restorations that can be done by your cosmetic dentist. This means that the amount of tooth structure that must be removed is very small. Generally, only 0.3 to 0.7 mm needs to be removed from the surface of your tooth.
Dental veneers are then made and bonded to the teeth, incorporating the desired changes in shape and color. Since veneers are so thin and there is no metal in them, the esthetic potential is very high. Veneers can be made of two different materials, either composite or porcelain.
Composite Veneers
The major advantage of composite veneers is treatment time. If composite is used, the dental veneers can be done in one appointment. The dentist will actually make the veneers directly on the prepared teeth.
The veneers are then smoothed and polished to look like your natural teeth. Since it takes only one appointment, you can leave your dentist's office with a brand new smile.
One of the disadvantages of composite veneers is that they are not as strong as porcelain veneers and therefore are more prone to fracture. However, if a fracture does occur, they can be easily repaired because the same material that was used initially to make the veneers can be added in the same manner to fix it.
Another disadvantage is that the color, although stable, is not as stable as the same porcelain veneer restoration. This means that over time the veneers may get darker or turn yellow. Eventually, this change in color can warrant the replacement of the composite veneers.
Porcelain Veneers
Porcelain veneers require a longer treatment time. At the first appointment, your teeth are prepared and an impression is made of them. Temporary dental veneers are made out of plastic and placed on your teeth. They are used to protect your teeth while the real porcelain veneers are being fabricated. You can also use them to evaluate the look and feel of your teeth so that any changes you desire can be incorporated into your real veneers.
At the second appointment, the temporary veneers are removed and the porcelain veneers bonded to your teeth. Although they are thin, porcelain veneers are much stronger than composite veneers, so the risk of fracture compared to the composite veneers is much less. However, if a fracture does occur, repairing it is more difficult and may result in the veneers having to be remade.
In general, porcelain veneers can be used in a greater variety of situations with a higher level of predictability. Since they are made outside the mouth, the shape and color can be easier to control, thus enhancing the final result.
By Greggory Kinzer, DDS, MSD