How Do I Care For My Perfect Teeth After Visiting a Cosmetic Dentist?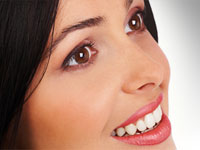 Have you had esthetic enhancements to your teeth or just naturally have great looking, perfect teeth? Here are some dentistry tips to maintain your picture perfect smile.
n order to maintain a healthy smile, you have to know what types of things are damaging to the teeth. Identifying and eliminating bad oral habits is the key to retaining a great smile for many years. Sometimes we are not aware that we are harming the health of our teeth. Do you:
Grind your teeth?
Casually bite your fingernails or a pen?
Crunch ice?
Have a diet high in sugar (such as soda, chewing gum and candy)?
Drink coffee, red wine and tea? Smoke or chew tobacco?
Force your tongue against your upper teeth?
If you answered yes to any of these questions, you are in danger of causing a detrimental effect on your new perfect teeth and smile.
How Detrimental Are the Effects? No one can predict the exact effects that the habit will have on your newly perfect teeth, however, the longer the duration of the habit, the greater negative effect it will have on the longevity of your smile enhancements.
How Can I Eliminate My Bad Oral Habits and Protect My Perfect Teeth?
The first step to eliminating a bad habit is to identify and acknowledge that you have one. If your habit is crunching ice, you must alter or eliminate it from your day-to-day routine.
Other habits are harder to break like grinding your teeth. Grinding the teeth is generally an involuntary action and usually occurs when asleep. Because the habit is difficult to break, a plastic night guard is the best solution to prevent excessive wear of your teeth.
A night guard is a clear plastic mouthpiece that is custom-fitted to snap over your teeth, much like an athletic mouth guard. The night guard is designed so your teeth grind on the plastic, not your teeth. The night guard will wear out, but your teeth will not.
Do not neglect your teeth, especially if you have had esthetic enhancements. Your enhancements will not last forever, so in order to preserve your perfect teeth, have regular dental check-ups and do your best to eliminate bad oral habits.
By Benjamin O. Watkins, III, DDS
Cosmetic Dentist: Do Teeth Bleaching Before Dental Crowns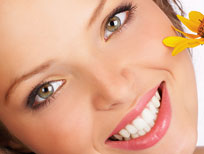 If you require a dental crown to be placed, it is a good idea to talk to your cosmetic dentist about how you feel about the color of your existing teeth before beginning the process. If you like the color of your teeth, your cosmetic dentist will then find a color that matches the crowns.
On the other hand, teeth bleaching may be an option for you. If you feel you would like to whiten or lighten your teeth, it is a good idea to communicate this to your cosmetic dentist beforehand. Once the final restorations are made, it will not be possible to change their color without redoing them.
At-Home Teeth Bleaching
If you desire whiter teeth before the cosmetic crowns are placed, the best way to achieve this is to talk to your cosmetic dentist about at-home teeth bleaching. With this procedure, custom-fitted plastic trays will be made for your teeth and you will be given some small tubes of teeth bleaching material.
Your cosmetic dentist will show you how to place a small amount of teeth bleaching material in the tray and then place the tray in your mouth. If any excess material squirts out of the tray onto your gums, you will want to remove it with your finger or a toothbrush.
The tray is then worn for one to two hours in the evening, depending on the type of teeth bleaching material. The biggest advantage of this method of teeth bleaching as compared with procedures that are done in your cosmetic dentist's office is that you are the one that can control how white you want your teeth to be.
Since you are the one in control, you can stop the teeth bleaching whenever you feel you have achieved the desired color. The typical teeth bleaching time is one and one-half to two weeks, but it may be longer.
Sensitivity to Tooth Bleaching
You may experience that your teeth become sensitive to cold air or liquids during the teeth bleaching process. This is normal and will subside and finally go away when you stop the teeth bleaching.
There are a couple of things you can do to decrease this sensitivity if it arises during the teeth bleaching process. One is to only bleach every other night. By taking a break after each night of teeth bleaching, your teeth will not be as sensitive.
The other is to have your cosmetic dentist prescribe you a fluoride gel that you can place in your custom teeth bleaching trays every other evening. The fluoride acts to decrease the sensitivity by coating or sealing the tooth surface and it will not affect the color of your teeth. This is the most reliable way to decrease sensitivity while you bleach.
Once you get your teeth to the desired color , your cosmetic dentist will have you wait about three to four weeks before taking a color match of your teeth in order to make the final restoration. During this time, the color of your teeth is stabilizing.
Once the Restorations Are Placed, What Can You Expect?
Teeth bleaching is very predictable, but the results will not last forever. Since the restorations were placed when your teeth were at their whitest, you will most likely find that in one and one-half to two years, the restorations may begin to appear lighter than your natural teeth.
This result is to be expected. It is not caused by a change in color of the restorations, but rather by your own teeth getting darker. At this point, all that is required is to, once again, bleach your natural teeth until the color is evened out. Usually, this only requires teeth bleaching a couple of times.
After the color is evened out, you can then expect to have the color stability last for another one and one-half to two years. On the other hand, if no restorations were placed by your cosmetic dentist after your teeth bleaching, you will most likely not notice the teeth changing color because there is no reference to help judge this change.
By Greggory Kinzer, DDS, MSD