Cosmetic Dentistry: A Smile Makeover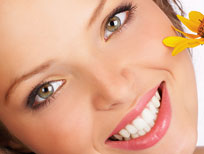 With recent advances in cosmetic dental technology, what was once considered impossible can now be performed routinely. We now have the means and the know-how to treat such conditions as discolored, crooked, and missing teeth - often in one or two visits to a cosmetic dentist, and often without discomfort.
Porcelain veneers have now become a standard part of cosmetic dentistry. These veneers are thin shells of porcelain bonded to the front teeth. Using porcelain veneers, we can change the shape, color and length of your teeth in only two visits - instant orthodontics!
Dental bonding is a widely used phrase that describes how tooth-colored fillings are placed. Using dental bonding, we can eliminate discolored areas, fill in gaps, and also build back areas of gum recession.
Composite fillings (tooth-colored fillings) can now be placed in the back molar areas when tooth decay is detected. These fillings can be used instead of amalgam (silver) fillings and are virtually invisible. Dentists have fun placing composite fillings and patients like them, too.
Teeth whitening is a great treatment for generalized yellow or stained teeth. With custom-fabricated tooth bleaching trays, the bleaching procedure can be done at home at your own convenience. The process generally takes about four to six weeks and the results are very impressive.
With the treatment options available today, it's possible to have the smile you've always wanted. Let your dentist know if you're interested in learning more about these advances in cosmetic dentistry.
Hollywood and the Cosmetic Dentist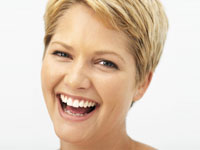 Hollywood's most fortunate faces often rely on the skills of their cosmetic dentist in ways that may surprise you.
Dustin Hoffman and Meryl Streep have perfectly nice teeth on their own. But, to meet the challenges of demanding roles in films, both used cosmetic dental appliances (dentures) to change the looks of their natural teeth.
Since women have smaller, rounder teeth, Hoffman, (who played a woman in "Tootsie") used a partial denture to make his teeth look more feminine.
To suggest the brutality of life in a concentration camp, Meryl Streep's teeth and mouth were altered for her role as Sophie Zawistowska, the poignant heroine of "Sophie's Choice."
More commonly, actors see their cosmetic dentists long before they get in front of the camera. In an image-conscious industry, it's no secret the camera is a harsh critic. And a mouth with missing teeth, or a mouthful of stained or broken teeth never helped an actor's image - or the image of a banker, doctor or secretary for that matter.
Few of us face a camera at work every day. But we all face an audience and it's the same audience that goes to the movies. The movies tell us successful people look good, failures don't. Ugly teeth can tell the tale.
Hollywood uses dentistry to make villains out of heroes - you too can use cosmetic dentistry to get a "winning" smile. Restorative dentistry is available to anyone who wants to look better.
Techniques such as dental veneers and tooth bonding have joined the traditional process of dental caps as ways to improve smiles. Orthodontic braces aren't just for children anymore, they're also available to adults who want straight teeth. In some cases, you can opt for teeth bleaching, or have your teeth lengthened or sculpted. If you think you would benefit from these treatments, ask your cosmetic dentist. Not all the new techniques will work for everyone, but he or she will be glad to discuss the best plan for your smile.
With today's new cosmetic dental techniques, you can cast yourself successfully in a competitive world with an award-winning smile.