The Art of the Dental Crown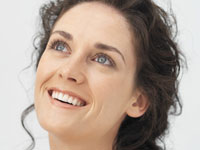 Cosmetic dentists aren't all white coats and Novocaine. There is both art and science in a dentist's day. Case in point: what appears to be more or less routine restoration of missing or broken teeth - a dental crown or a dental bridge - is akin to principles of architecture.
Think of the arch of your mouth like the roof of a house. Each element of the structure relies on another. If a rafter breaks, the entire building will, sooner or later, buckle. So it is with your teeth.
The mouth is balanced; teeth function together. One missing tooth can cause permanent changes in your bite. Neighboring teeth drift into the empty space. The opposing tooth will actually grow longer and longer, further frustrating normal chewing. You'll tend to favor one side of your mouth over another. This old house is eventually doomed.
Dentists, then, are believers in tooth restoration and dental crowns. With all the new materials cosmetic dentistry offers today, virtually any mouth can be restored to good working order. A tooth that might have been lost five years ago now has many options for renewed vitality.
And the cosmetic results that can be achieved are, well, awesome. When it comes to new dental technologies, take advantage. Your cosmetic dentist will be there when you're ready to go for it.
Cosmetic Dentistry Combines Art and Science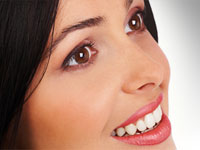 Cosmetic dentistry, these days, sometimes combines science with fine art. This requires a craftsman's skill to make sure the tooth restoration is as attractive as it is durable. After all, your smile is too valuable to be spoiled by unnatural-looking dental veneers.
The goal of a cosmetic dentist should be to provide you with an attractive, natural-appearing smile. You have a wide array of choices, and a good cosmetic dentistry professional should be happy to review the possibilities with you. For example, porcelain onlays and inlays can return structural integrity to a broken tooth, while leaving it looking as good as (or possibly better than) the original.
This is especially apparent if you now have metal fillings or a gold tooth. Metal and gold, after all, are not normal components of teeth. There's a huge difference between gold or metal combination fillings and porcelain dental crowns that reflect the translucence of natural teeth. Plus, porcelain restorations are now as strong, or stronger, than your own teeth. Ask your cosmetic dentist to take before-and-after photos so you can see the difference for yourself.
Admittedly, these more natural-appearing restorations are also a little more expensive. And many dental insurance plans may not cover all of the cost for cosmetic dental work. But in terms of your appearance (and the self-confidence it boosts), there's no comparison.