How To Fill Spaces Between Your Teeth With Dental Veneers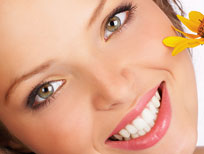 Gaps between your teeth may be considered by many as unattractive and make you feel self-conscious about your personal appearance. If you have spaces between your teeth, and you want to do something about them, talk to your cosmetic dentist about the latest in orthodontics and other aspects of restorative dentistry. However, before you can make a decision on which cosmetic dentistry treatment is the right one for you, it is important to know what causes spaces between teeth.
The Origin of Gapped Teeth
Each person is unique, and no one case presents a definitive reason why a space is present. Genetics can play a major role in how teeth form in your mouth. If your parents have spacing between their teeth, it is a good chance that you will also.
Childhood habits largely affect the position of your teeth as well. Breathing mostly through your mouth and sucking on your thumb are examples of habits that will affect the position of your teeth.
Adults can also have habits, like forcing their tongue against their upper teeth or pen biting, that can gradually shift teeth throughout life. When the teeth shift, spacing or even jaw joint pain can occur.
How to Correct the Spaces Between Your Teeth
There are four ways to correct the spaces between your teeth. Diagnosing the reason the spaces are present will determine which of the treatments will best suit your needs.
Gaps between teeth can be filled by:
Orthodontics moving the teeth)
Bonding (bonded tooth-colored fillings)
Dental Veneers/Laminating (bonded porcelain facings)
Dental Crowns (capping)
Placing braces on your teeth in order to move them into their correct position is usually the most ideal treatment. Using orthodontics to move the teeth is the most time consuming, but it is also the most beneficial. Orthodontics is used to place teeth so that your bite is in harmony with your smile.
All of the other treatments to fill the spaces, including tooth bonding, dental veneers like Lumineers, and dental crowns, although they are very good treatments, are considered esthetic and functional compromises, and should be discussed with your cosmetic dentist in order to determine which restorative dentistry treatment is best for you.
By Benjamin O. Watkins, III, DDS
Do I Need an Extreme Makeover? Why Do My Dental Crowns Look Fake?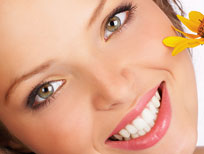 The most common complaint associated with crowns is that they look "opaque," "lifeless," and "fake" compared to natural teeth. Do you need an expensive dental makeover to solve the problem? No!
The appearance of a crown is affected by many factors, but ultimately, the final result is determined by how the crown reacts with light. Natural teeth have a high degree of translucency, which means a certain amount of light passes through the tooth. The result of this is that the tooth appears to have depth and vitality.
Porcelain Dental Crowns With a Metal Substructure
Traditionally, crowns are made of two materials:
porcelain, which gives it the tooth-colored appearance
metal substructure, which gives the crown its strength
Generally, it is this type of crown that can appear opaque. The reason for this is that while porcelain is very translucent and lets light travel easily through it, no light can pass through the underlying metal. In order to prevent the metal color from showing through the porcelain, which would make the crown seem dark or gray, the metal has to be "masked out" with an opaquing material. It is this masking or opaquing that can affect the final appearance, giving rise to the opaque or lifeless look.
Do All Porcelain Crowns With a Metal Substructure Appear Lifeless?
The answer is no. One thing that can be done to improve the appearance is to remove the metal margin that goes around the crown. By keeping the metal inside the crown and having porcelain at the junction between the crown and the tooth, the "black line" appearance at the gum line can be eliminated, thereby increasing the translucency in this area. It also is necessary to have an adequate thickness of porcelain over the metal substructure. If the metal that has been masked out is too close to the outer surface of the crown, the appearance of depth is lost. What it mostly comes down to, however, is the skill level and artistry of the technician who is making the crown. When done correctly, porcelain crowns with a metal substructure can give you the best of both worlds without the expense of an extreme makeover. They can be made to exactly match your other teeth while still appearing lifelike, and since there is metal in it, they have increased strength.
Dental Crowns
Today, there are dental crowns available that do not require a metal substructure and are made of only porcelain. Depending on the specific type, they get their strength either from the bond to the remaining tooth structure or from a dense tooth colored substructure. Since there is no metal, these types of dental crowns allow more light to pass through, which enables them to have more depth and vitality, much like natural teeth. So why isn't this type of crown used all the time? The main reason is that they are not as strong as crowns with a metal substructure. So, if a person grinds their teeth, these crowns have a greater risk of fracture. Another reason why an all-ceramic dental crown cannot be used in all situations is if the underlying tooth structure itself is dark. Very dark teeth are difficult to mask with these types of crowns because of their translucency. In these instances, the dark color may show through the crown. So, for situations where a lot of force will be placed on the teeth (such as grinding habits) or if a tooth is really dark, a well-made porcelain crown with a metal substructure may be a better restoration.
By Greggory Kinzer, DDS, MSD