How Do I Care For My Perfect Teeth After Visiting a Cosmetic Dentist?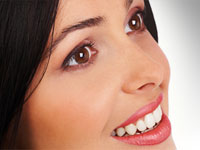 Have you had esthetic enhancements to your teeth or just naturally have great looking, perfect teeth? Here are some dentistry tips to maintain your picture perfect smile.
n order to maintain a healthy smile, you have to know what types of things are damaging to the teeth. Identifying and eliminating bad oral habits is the key to retaining a great smile for many years. Sometimes we are not aware that we are harming the health of our teeth. Do you:
Grind your teeth?
Casually bite your fingernails or a pen?
Crunch ice?
Have a diet high in sugar (such as soda, chewing gum and candy)?
Drink coffee, red wine and tea? Smoke or chew tobacco?
Force your tongue against your upper teeth?
If you answered yes to any of these questions, you are in danger of causing a detrimental effect on your new perfect teeth and smile.
How Detrimental Are the Effects? No one can predict the exact effects that the habit will have on your newly perfect teeth, however, the longer the duration of the habit, the greater negative effect it will have on the longevity of your smile enhancements.
How Can I Eliminate My Bad Oral Habits and Protect My Perfect Teeth?
The first step to eliminating a bad habit is to identify and acknowledge that you have one. If your habit is crunching ice, you must alter or eliminate it from your day-to-day routine.
Other habits are harder to break like grinding your teeth. Grinding the teeth is generally an involuntary action and usually occurs when asleep. Because the habit is difficult to break, a plastic night guard is the best solution to prevent excessive wear of your teeth.
A night guard is a clear plastic mouthpiece that is custom-fitted to snap over your teeth, much like an athletic mouth guard. The night guard is designed so your teeth grind on the plastic, not your teeth. The night guard will wear out, but your teeth will not.
Do not neglect your teeth, especially if you have had esthetic enhancements. Your enhancements will not last forever, so in order to preserve your perfect teeth, have regular dental check-ups and do your best to eliminate bad oral habits.
By Benjamin O. Watkins, III, DDS
Dental Veneers - The Ultra-Thin Solution to Damaged Teeth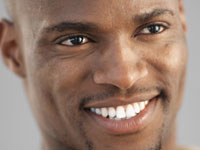 Do you have a weakened, discolored or broken tooth, or teeth, you wish could be improved without having them reduced in size and replaced with dental crowns? Until quite recently, a crown was your only alternative. But not any more. Now that tooth or teeth can be saved and looking fabulous with elegant, life-like porcelain veneers.
Dental veneers are less expensive than crowns, easier on the patient, and relatively quick to place. You could call them "instant orthodontics."
And forget about those thick, heavy, "clunky" tooth veneers of five to ten years ago. Today's dental veneers are ultra-thin and very light, bonded to just the front of the tooth. Cosmetically and technologically speaking, there's no comparison. You have to see them to believe them.
This type of cosmetic dentistry is an inexpensive, simple way to hide a multitude of "Smile Sins." It is easy to improve the look and translucence of teeth stained by early tetracycline use, or years of coffee and tea stains. A minor chip or irregularity can be corrected in a flash with a veneer. No pain, no strain, nothing but the perfect tooth restoration you've always wanted.
Misshapen or overlapping front teeth? By removing just a tiny fraction of enamel and placing tooth veneers, your front teeth can be contoured or straightened. Best of all, a single office visit to a cosmetic dental professional usually does the trick.
The prosthodontics procedures available today are high-tech and versatile. Call your cosmetic dentist for a consultation, and see if a dental makeover can give you a whole new smile!