Cosmetic Dentistry: What Is a Prosthodontist?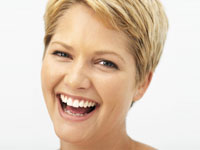 A general dentist attends four years of dental school after college and receives training in all areas of dentistry, including fillings, crowns, cleaning teeth, root canals, extracting teeth and much more. At the completion of this training period, a dentist can either go out and open a dental practice or continue on with their education and specialize in any of the above-mentioned areas. For example, an orthodontist is a specialist in braces.
A prosthodontist is a specialist in the restoration and replacement of broken and missing teeth. Their additional training lasts three years. During that time, they are taught in greater detail about both removable and fixed prosthodontics.
Removable Prosthodontics includes replacing missing teeth with appliances that the patients themselves can take in and out of their mouth, such as dentures and partial dentures.
Fixed prosthodontics includes replacing missing and/or broken teeth with restorations that the patient cannot take in and out, such as veneers, dental crowns, bridges and implants.
The most important part of the training is how to restore teeth in a variety of different situations so that the end result is the most esthetic and predictable outcome possible. The types of cases seen in cosmetic dentistry are often more comprehensive and complex in nature. They often involve the combination of crowns and implants or can even be as involved as placing crowns on every tooth in a person's mouth.
To do this, prosthodontists are trained to evaluate all the different aspects of your teeth and mouth. They observe and treat your mouth with regards to:
esthetics (the overall shape, position, and appearance of your teeth)
function (how your teeth and jaw joints work together so that you can chew)
structure (the integrity of the individual teeth)
biology (the health of the gum tissue around the teeth).
By evaluating these different areas, the prosthodontist can treat one area of your mouth, but also will determine how other areas will impact the treatment. In essence, a prosthodontist looks at your mouth as a whole, even though there may be only one tooth requiring treatment.
Often times, especially in cases involving multiple and/or missing teeth, the involvement of other specialists and cosmetic dentistry will be needed to help with treatment. These specialists include orthodontists (to straighten or move teeth using braces), periodontists (for gum surgeries and placement of implants), endodontists (root canals) and oral surgeons (for the extraction of teeth and placement of implants). In essence, the prosthodontist acts as the coordinator to help sequence the proper treatment before the final restorations are placed. Often times, treatment can take longer to complete, especially if other specialists are involved. In taking a complete approach, you can be assured that you will end up with the most esthetic and reliable treatment, whether it involves one or all of your teeth.
By Greggory Kinzer, DDS, MSD
The Artistry Of Tooth Bonding and Dental Crowns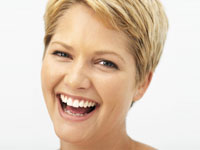 Throughout history, dentists have tried to recreate the function and beauty of natural teeth when tooth structure has been lost. Restoring function used to be the main goal of a dentist because prior to the 1970's, dentistry lacked the proper technology to achieve fine esthetics as well as function. Dentists could only predictably offer patients a restoration that would simply "fill" the empty space. Today, dentistry has more advanced dental materials and newly developed techniques that allow dentists to offer artistically-recreated, natural-looking crowns and modern tooth bonding that would fool even the most critical eye.
Before you can understand how crowns and tooth bonding can mimic teeth you must understand why natural teeth appear as they do.
What Color Are Your Teeth?
It is a common mistake for patients to think that their teeth are all one color. Your teeth are never just one color. They are a series of superimposed translucent layers of varying shades. Teeth also have different surface textures that reflect light in ways that affect the color of your teeth.
Your teeth are made up of three layers: pulp, dentin, and enamel. Each layer has a specific thickness, composition and structure. Additionally, the way light reflects off of or transluces through the layers gives you the color of your teeth. Using knowledge about the three layers of teeth allow dentists and dental technicians to recreate natural-looking dental crowns and tooth bonding.
Who Makes the Crowns?
Dental crown technicians are the true artisans in dentistry. Dentists begin the crown-making process by reducing the size of the tooth, making an impression of the reduced tooth, and selecting the proper shades of the tooth. This information is then transferred to the dental technician so a crown can be made.
Dental technicians blend science with artistic knowledge to recreate natural-looking teeth. Artistically, they use frame and reference, proportion and idealism, perspective and illusion as well as symmetry to mimic nature. Understanding the language of colors and using new dental materials and techniques has allowed the dentist to not only "fill" missing spaces but create cosmetic dentistry artwork from crowns and tooth bonding as well.
By Benjamin O. Watkins, III, DDS