Cosmetic Tooth Bonding Fixes Damaged Teeth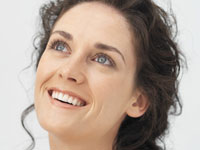 Cosmetic dentistry is everywhere these days.
With new materials, especially dental "superglues," we're reshaping teeth, filling gaps between teeth, restoring broken teeth, replacing missing teeth, placing lighter braces. The technique is called dental bonding, and the aesthetic result is wonderful.
But it's not forever.
The American Dental Association puts the life of tooth bonding materials at about five years. This may be a conservative estimate, but there will come a time when a bond needs attention.
In general, if you treat a bonded tooth like your other teeth, you'll keep your dental restoration intact longer. Lax home care habits or the wrong foods can hasten wear and tear.
So go easy. If your tooth restoration is brand new, or years old and still flawless, keep smiling. With care, we've seen dental bonding last a long, long time.
Here are some reminders to help lengthen the life of your dental restoration.
Expect to come in more often just after your tooth restoration is placed. The edges of bonded restorations need a once-over after a few months to verify a smooth fit. And we'll check to make sure there is no gum irritation, too.
Certain unforgiving foods can threaten any dental restoration. Watch nuts, hard candies, some fresh fruits - a bond could crack. We don't see it often, but with heavy-handed treatment, veneers can pop right off - not a real confidence-builder in a crowd.
Nail-biting and ice-chewing are out.
Use a non-abrasive toothpaste and a soft brush.
Coffee, tea, colas, and cigarettes, of course, are not your restoration's best friends. They stain, among other unsavory things.
The Psychology of Cosmetic Dentistry Work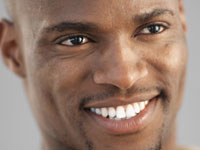 We all suspect that how we look makes a difference in our lives. Think of the days when everything is going fine - that's a day you're feeling good and probably looking good.
In our teens, looks are everything. But as we get older, we tend to take our appearance for granted, and rely instead on our skills and professional competence to make up for any "cosmetic" imperfections.
Well, "cosmetic" is more than skin deep. We form very real biases about the people around us, even as adults, based on the simple fact of appearance. And the most critical factor in such judgments, according to copious research, is the teeth.
Yes, women are concerned about shape, as men are impressed by height. But everyone reacts the same to a healthy, beautiful smile. Whether we like it or not, people with straight white teeth are perceived to be more honest, more productive, more out-going, trusting, successful - you name it - than their counterparts with a missing tooth or broken teeth.
Your dentist has seen this psychology at work. For his or her patients, children and adults alike, cosmetic dentistry has made a tangible improvement not just in smiles, but in the quality of lives. A smile enhanced by restorative dentistry brings dramatic changes - changes more than "skin deep."
With new materials and techniques - tooth bonding, teeth bleaching, dental veneers, invisible braces - your cosmetic dentist is excited about the "magic" he or she can make. They've seen self-esteem grow before their eyes. Your dentist can help you look good, feel good, and get on with a healthy, vital life. Cosmetic dentistry? Go for it!