Cosmetic Dentistry for a Perfect Smile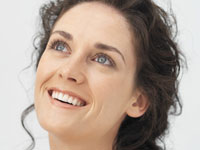 In most cosmetic dentistry practices, good health and sound oral function are their primary goals. But these days, both can be achieved with a third factor in mind, good looks.
Good looks are all around us. In consumer magazines, TV, media, politics, and business. Both men and women are flashing bright, near perfect smiles. It's a pleasure to see. We're not all born that way, and they probably weren't either. Dental makeovers have contributed to a large part of the self-esteem of models, movie stars, and recently, the grocery clerk or the grandmother next door, who seek cosmetic dental care.
Surprisingly, most tooth restoration procedures are fairly conservative. That is, removal of healthy enamel is kept to a minimum, or dispensed with altogether. Teeth bleaching, tooth bonding and contouring are quick, easy, and fairly inexpensive. Porcelain veneers lend new form and youthfulness to front teeth. Tooth-colored fillings can replace discolored amalgams. A new denture can restore a more youthful appearance. The choices are yours.
Notice the people you know who are proud of their teeth. They smile more often. Great teeth build self-confidence. Most people respond more readily to an attractive smile in a very positive way. The psychology is simple, the impact great.
We are lucky to have new materials and techniques that make a beautiful smile within everyone's reach. Take advantage of cosmetic dentistry, for yourself and the people around you.
Give your cosmetic dentist a call today to find out how your smile can benefit from today's technical innovations.
Restorative Dentistry Treatments, Inlays And Onlays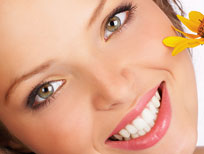 Dental inlays and dental onlays are valuable for restoring teeth that are severely decayed or worn. Typically, they are applied to the chewing surfaces on the back teeth.
What Is the Difference Between a Dental Inlay and a Dental Onlay?
In restorative dentistry, an inlay is used more like a filling for restoring normal tooth structure. It is best if the surface is small and only involves the chewing surface and surfaces between the teeth.
An onlay is similar to an inlay but treats larger areas, covering the entire chewing surface of a tooth. Dental onlays are recommended for larger tooth restorations and when chewing surfaces require long-term protection.
What Are Dental Inlays and Dental Onlays Made of?
Since both are used in areas of heavy chewing and grinding, they must be made from durable materials. They can be made from porcelain or composite resin chosen to match the color of your teeth or they can be made of a mixture of metals called an alloy. Alloys can be a mixture of metals like gold and palladium or nickel and chromium.
What Are the Restorative Dentistry Procedures for Dental Inlays and Dental Onlays?
The tooth is first prepared by removing portions of decay or damage. The remaining tooth structure is shaped in preparation for the dental inlay or dental onlay. An impression of the tooth is made along with opposing teeth and the bite. From this, a plaster model is formed that is used for a custom fit matching the contours of the tooth.
Since both dental inlays and dental onlays are custom-made, a second appointment is needed for checking the fit and cementing the inlay or onlay permanently. At that appointment, any adjustments to the bite will be made. A final polishing adds the final touch to this restorative dentistry treatment.
By Danine M. Fresch, DDS