Dental Makeover: Does My Smile Make Me Look Older?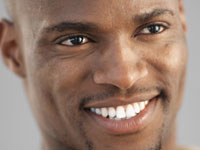 When you look in the mirror, what do you see? Is the reflection you see not quite what you used to see? Do you say to yourself, "I don't feel any older, but I see an older person." Getting older is an inevitable process, but you don't have to look older, too.
When it comes to looking younger, there are all sorts of products and procedures available so you can look your best (such as anti-wrinkle gels, cosmetics, skin treatments, facelifts and day spas). One of the procedures that is the least emphasized, but can have a profound yet subtle effect, is an improved smile from a dental makeover.
Why Does Your Smile Look Older?
It's typical that most adults don't realize that their smile is not as bright as it used to be. Coffee, tea, red wine, smoking, and the normal, and sometimes heavy, wearing away of tooth enamel have cumulative effects on the teeth. As we age, our smile begins to look a little discolored.
Old dentures can become yellow or gray, which will make your smile appear older. In fact, dentures will naturally pick up stains and wear down faster than our natural teeth. If you have had the same dentures for more than six years, they require a dental makeover. New dentures should be made every six to ten years and relined every three to five years.
How Can a Dental Makeover Make My Smile Look Younger?
The fastest and easiest way an esthetically minded person can get a dental makeover is through bleaching or tooth whitening. It can be achieved either through an at-home or in-office process. Now, there are over-the-counter products that will whiten your teeth; however, for safe and predictable changes with dramatic results, there is no substitute for the dental office.
Are There Any Other Ways to Make My Smile Look Younger?
Bleaching is usually the first step to achieving a more youthful appearance to your smile. Not only can you brighten your smile through bleaching, but the physical appearance of your teeth can also be improved. Applying composite bonding, porcelain veneers or crowns to your teeth is the ultimate in dental makeover and cosmetic dentistry enhancements.
When these options were presented to one patient, she couldn't envision the immediate change the procedures would have on her smile. In front of a mirror, I showed her the gradual changes that had occurred over time due to the wearing and staining of their tooth enamel. The patient decided to have her teeth whitened and her front teeth artistically rejuvenated with porcelain veneers. When the patient went to work after the procedure was complete, her coworkers noticed a difference, but couldn't exactly identify the change in her overall appearance. They thought that she did something different to her hair or was losing weight. No one guessed that subtle improvements had been made to her teeth.
It's never too late to care more about your smile and make immediate improvements with a dental makeover. A small change today can enhance your smile for years to come.
By Benjamin O. Watkins, III, DDS
Restorative Dentistry Treatments, Inlays And Onlays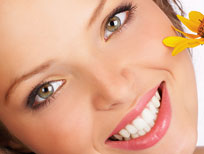 Dental inlays and dental onlays are valuable for restoring teeth that are severely decayed or worn. Typically, they are applied to the chewing surfaces on the back teeth.
What Is the Difference Between a Dental Inlay and a Dental Onlay?
In restorative dentistry, an inlay is used more like a filling for restoring normal tooth structure. It is best if the surface is small and only involves the chewing surface and surfaces between the teeth.
An onlay is similar to an inlay but treats larger areas, covering the entire chewing surface of a tooth. Dental onlays are recommended for larger tooth restorations and when chewing surfaces require long-term protection.
What Are Dental Inlays and Dental Onlays Made of?
Since both are used in areas of heavy chewing and grinding, they must be made from durable materials. They can be made from porcelain or composite resin chosen to match the color of your teeth or they can be made of a mixture of metals called an alloy. Alloys can be a mixture of metals like gold and palladium or nickel and chromium.
What Are the Restorative Dentistry Procedures for Dental Inlays and Dental Onlays?
The tooth is first prepared by removing portions of decay or damage. The remaining tooth structure is shaped in preparation for the dental inlay or dental onlay. An impression of the tooth is made along with opposing teeth and the bite. From this, a plaster model is formed that is used for a custom fit matching the contours of the tooth.
Since both dental inlays and dental onlays are custom-made, a second appointment is needed for checking the fit and cementing the inlay or onlay permanently. At that appointment, any adjustments to the bite will be made. A final polishing adds the final touch to this restorative dentistry treatment.
By Danine M. Fresch, DDS