Find A Cosmetic Dentist to Understand Dental Veneers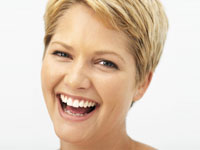 What Are Dental Veneers?
There are many cosmetic dentistry situations which arise that lend themselves to treatment with dental veneers by your cosmetic dentist. One indication is for restoring teeth with discoloration that have been unaffected by the more conventional teeth bleaching approaches. Some examples of this are teeth that have severe tetracycline (an antibiotic) staining or discoloration from a previous injury to the tooth.
Another major indication is for teeth that require significant changes in their shape or contour. By placing dental veneers, small or misshapen teeth can be built up to regain a more natural appearance, spaces between teeth can be closed by making the teeth wider and teeth that are too short can be lengthened.
Porcelain dental veneers or composite veneers are a very popular dental care treatment option for a variety of reasons. They are one of the most conservative restorations that can be done by your cosmetic dentist. This means that the amount of tooth structure that must be removed is very small. Generally, only 0.3 to 0.7 mm needs to be removed from the surface of your tooth.
Dental veneers are then made and bonded to the teeth, incorporating the desired changes in shape and color. Since veneers are so thin and there is no metal in them, the esthetic potential is very high. Veneers can be made of two different materials, either composite or porcelain.
Composite Veneers
The major advantage of composite veneers is treatment time. If composite is used, the dental veneers can be done in one appointment. The dentist will actually make the veneers directly on the prepared teeth.
The veneers are then smoothed and polished to look like your natural teeth. Since it takes only one appointment, you can leave your dentist's office with a brand new smile.
One of the disadvantages of composite veneers is that they are not as strong as porcelain veneers and therefore are more prone to fracture. However, if a fracture does occur, they can be easily repaired because the same material that was used initially to make the veneers can be added in the same manner to fix it.
Another disadvantage is that the color, although stable, is not as stable as the same porcelain veneer restoration. This means that over time the veneers may get darker or turn yellow. Eventually, this change in color can warrant the replacement of the composite veneers.
Porcelain Veneers
Porcelain veneers require a longer treatment time. At the first appointment, your teeth are prepared and an impression is made of them. Temporary dental veneers are made out of plastic and placed on your teeth. They are used to protect your teeth while the real porcelain veneers are being fabricated. You can also use them to evaluate the look and feel of your teeth so that any changes you desire can be incorporated into your real veneers.
At the second appointment, the temporary veneers are removed and the porcelain veneers bonded to your teeth. Although they are thin, porcelain veneers are much stronger than composite veneers, so the risk of fracture compared to the composite veneers is much less. However, if a fracture does occur, repairing it is more difficult and may result in the veneers having to be remade.
In general, porcelain veneers can be used in a greater variety of situations with a higher level of predictability. Since they are made outside the mouth, the shape and color can be easier to control, thus enhancing the final result.
By Greggory Kinzer, DDS, MSD
Schedule a Checkup with Your Cosmetic Dentist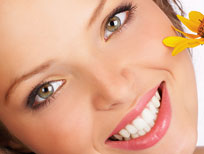 Maybe the reason we find an eight-year-old's gapped teeth smile so adorable is...we know it's not permanent. Soon the grown-up teeth will be poking through, clean and new. All part of the mouth's natural evolution.
It's not often that nature gives us a second chance, but when it comes to teeth it does just that. For many children it can be a wake-up call to start taking dental hygiene seriously. As the old saying goes, "God gives you two sets of teeth, but you have to buy the third."
It may be time though to change that outdated piece of wisdom to: "Teeth are like friends...ignore them and their needs and they'll go away. Be kind to them and they'll stick with you forever."
That's why regular hygiene appointments and a gum disease examination are so important. Barring injury, there's simply no reason why most of us should be missing teeth as we grow older. Call it a "10,000 smile checkup," insuring all your parts are in good working order.
Once your cosmetic dentist knows that your teeth are healthy and the gums are sound, he or she can do a little restorative dentistry to evolve your smile to an even higher level. Things like dental bonding to close the gaps…or invisible dental crowns or veneers for front teeth…even teeth bleaching for a truly dazzling and beautiful smile.
Give your cosmetic dentistry professional a call. He or she can help you see to it that your mouth does the job it was intended to for a lifetime. And look drop-dead sensational at the same time!