Benefits of Cosmetic Dental Care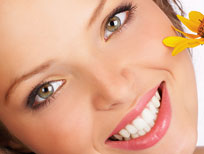 Do your looks affect the way people treat you? Positive self-esteem - how we feel about ourselves - is very important to a healthy personality, to happiness, to the development of a positive attitude about life, and to achievement in the direction we choose.
It is well documented that people with a positive "feeling" about themselves do better in school, in business, and have closer, more meaningful relationships.
One measure of self-esteem is how you feel about your physical appearance; or, more importantly, how you feel you look to others. The complexion, teeth, and nose, in that order, are the highest "rated" facial features.
Self-image begins to develop about age four or five. At that age, identity influences other developing traits: social skills, verbal skills, intellect, and the ability to define oneself as a successful person. In other words, at age four or five a child makes a giant step toward "I'm OK, I'm a worthwhile person," or, conversely, toward "I'm not OK." The results can often affect the remainder of that person's life.
Beauty is often more than skin deep, because the psychological damage to a person who feels unattractive can be devastating. Then there's the other side of the coin. Does how we look affect how others treat us?
Indeed. Studies have shown that good-looking people are given the benefit of the doubt over unattractive people. They're thought to be more intelligent, more likeable, higher achievers, honest, and braver than the unattractive. Even school teachers spend more time with attractive students!
Your mouth is important to your total psychological and physical well-being. Is it worth regular dental cleaning and cosmetic dental care? Is visiting your cosmetic dentist and having your broken teeth restored with beautiful dental crowns worth it? Is straightening crooked teeth with braces worth it? We think you'll probably agree, you and your family are definitely worth it!
Cosmetic Dentistry, Restorative Dentistry, The Dental Crown And The Gold Crown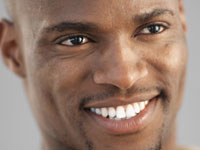 In restorative dentistry a dental crown, or caps for teeth, look and function just like natural teeth. Your cosmetic dentist may recommend a dental crown if your tooth has enough decay that it cannot hold a filling, or if your tooth is cracked or broken and in danger of cracking down into the root if left unattended. A dental crown covers your tooth completely. It fits snugly at the gum and protects what remains of the natural tooth.
Why Have A Dental Crown?
The dental crown serves two important functions. First, it restores the appearance of your teeth and your face. If your tooth is severely decayed or cracked, your cosmetic dentist will need to restore it prior to preparing a cap. Teeth also support the muscles in our faces, so anything less than a full tooth may affect the way you smile.
Second, a dental crown will be the same size and shape as the natural tooth. As a result, it will keep your jaw and bite aligned; it will also make sure that other teeth don't shift locations or take on a greater share of the work of biting and chewing.
What Is a Dental Crown Made of?
A dental crown is most often made of gold or porcelain. A dental crown also can be made of stainless steel, but those are often temporary and not designed for long-term wear.
A porcelain dental crown is usually built on a metal base, which fits snugly over the natural tooth. Your dentist will choose a porcelain that matches the color of your natural teeth. A porcelain dental crown is usually so carefully matched in color, it cannot be distinguished from your natural teeth. Many people choose porcelain dental crowns for the cosmetic appearance and the confidence it give them.
New materials are now available in cosmetic dentistry that allow your cosmetic dentist to use an "all-ceramic" dental crown in some cases. They have a beautiful life-like appearance and short-term studies support their success, with long-term trials ongoing.
A dental crown can be made of all gold. Some people prefer not to use a gold crown because it stands out from the other teeth in appearance. At the same time, if the gold crown is on a back molar, some people feel the cosmetic issue is not a big one. Your cosmetic dentist will discuss the types of materials available if a gold crown is recommended.
An Ounce of Prevention Is Still the Rule!
Once your dental crown is in place, make sure the area is brushed well and that you floss below the gum line. While the dental crown protects your remaining tooth from further decay, you must protect the base of the dental crown from bacterial growth and gum disease. Regular brushing and flossing as you would your natural teeth will ensure that your crown will be in place for years to come!
Your Gold Crown is not just royal jewelry for your mouth!
by Danine M. Fresch, DDS