Replace a Missing Tooth: Restorative Dentistry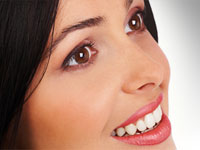 We've come a long way from the "yank 'em" philosophy of early dentistry, before techniques and materials gave us the wherewithal to save teeth. These days, there's rarely a case we can't salvage. It's a good time for dentists - saving teeth is why we get up in the morning.
The way we see it, a missing tooth is more than just a hindrance to normal chewing, more than a cosmetic bother. It's a threat to the entire architecture of your mouth.
The mouth is dynamic. Where there is a missing tooth, neighboring teeth drift, gum disease may crop up, even the unprotected bone ridge is susceptible to damage.
So we replace the missing tooth with a dental bridge, or rescue a broken down tooth with a dental crown.
Bridges are partnered with crowns to resolve gaps left by missing teeth. The idea is to replace teeth with false, or "pontic" teeth, anchored to crowns at either end, and fixed in place. Quality bridgework looks and feels very natural, one of dentistry's mainstays and our first restoration choice whenever possible.
Partial dentures, too, are dependent on your remaining teeth for support, but are attached by clasps or "precision attachments." Complicated partials can be engineering marvels, filling in for missing teeth on both sides of the dental arch. The success of partials depends in part on the strength of attachment teeth.
Complete dentures are not the end of the line, dentally speaking. A good, well-fitting denture can come close to a full complement of teeth, and contribute to a youthful aspect, as well.
Dental implants are the newest remedy for missing teeth, to replace a single tooth, or to support an overdenture. People who have implants all agree: why didn't I do this sooner?
Replace missing teeth with cosmetic dental work? Do it. Restorative dentistry has a way.
Restorative Dentistry Treatments, Inlays And Onlays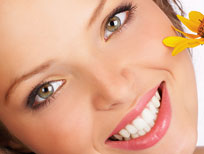 Dental inlays and dental onlays are valuable for restoring teeth that are severely decayed or worn. Typically, they are applied to the chewing surfaces on the back teeth.
What Is the Difference Between a Dental Inlay and a Dental Onlay?
In restorative dentistry, an inlay is used more like a filling for restoring normal tooth structure. It is best if the surface is small and only involves the chewing surface and surfaces between the teeth.
An onlay is similar to an inlay but treats larger areas, covering the entire chewing surface of a tooth. Dental onlays are recommended for larger tooth restorations and when chewing surfaces require long-term protection.
What Are Dental Inlays and Dental Onlays Made of?
Since both are used in areas of heavy chewing and grinding, they must be made from durable materials. They can be made from porcelain or composite resin chosen to match the color of your teeth or they can be made of a mixture of metals called an alloy. Alloys can be a mixture of metals like gold and palladium or nickel and chromium.
What Are the Restorative Dentistry Procedures for Dental Inlays and Dental Onlays?
The tooth is first prepared by removing portions of decay or damage. The remaining tooth structure is shaped in preparation for the dental inlay or dental onlay. An impression of the tooth is made along with opposing teeth and the bite. From this, a plaster model is formed that is used for a custom fit matching the contours of the tooth.
Since both dental inlays and dental onlays are custom-made, a second appointment is needed for checking the fit and cementing the inlay or onlay permanently. At that appointment, any adjustments to the bite will be made. A final polishing adds the final touch to this restorative dentistry treatment.
By Danine M. Fresch, DDS